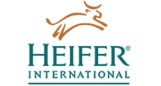 Country Resource Mobilization Manager - Rwanda
Job Description
The Institutional Business Development Country Resource Mobilization Manager (CRMM) will be based in Heifer International's country office in Rwanda. S/he plays a central role in her/his country of assignment in defining resource mobilization strategies, identifying market opportunities, building relationships, strategically positioning Heifer with potential funders and partners, strengthening country office capacity for resource mobilization, and responding to funding opportunities, specifically institutional funders such as USAID and the EU.

The CRMM will report to the Partnership and Business Development Manager located at the Institutional Business Development (IBD) office in Washington, DC. S/he will work closely with the Country Director (CD) and country team to effectively conduct market analysis on funding trends, gather business intelligence, identify and participate in responding to business opportunities in the country and in the region, as needed. S/he will be a member of country program management team of his/her assigned country. S/he will join existing and/or create new and relevant netwoks in-country to position Heifer for business partnerships.

The CRMM, in coordination with the IBD team and the CD, will coordinate pre-bid, bid, and post-bid processes for the country of assignment. This, among others, will include relationship building, intelligence gathering, processing and sharing of key information in a timely manner; capture planning, initiating Go/NoGo decisions; identification and vetting of partners, drafting of pre/teaming agreements and writing sections of funding proposals as needed. S/he collaborates with other Heifer resource mobilization/fundraising teams, as needed, to identify and respond to specific institutional funders, foundations and corporate funding opportunities.


ESSENTIAL CHARACTER TRAITS

Relationship builder, networker, strategic, organized, team player, communicator, proactive, detail-oriented

To view the full Job Description and to apply, visit https://www.heifer.org/about-heifer/careers/view-all-jobs.html

Heifer International is an equal opportunity employer. All qualified applicants will receive consideration for employment without regard to race, religion, color, national origin, gender, gender identify, sexual orientation, age, status as a protected veteran, among other things, or status as a qualified individual with disability.
Job Requirements
Minimum Requirements:

Bachelor's degree plus five (5) years of job-related experience in Rwanda or the region.
Fluent in English (fluency in other languages is a plus).


Preferred Requirements:

Master's degree in business development or international development or a related field.
Minimum two (2) or more years living and working in Rwanda or the region.